The Android Parental Control App is a comprehensive tool designed to ensure your child's digital safety. It offers real-time monitoring features like a location tracker and live monitoring, freeing parents from worrying about their child's whereabouts and activities. Not only that, it includes management tools such as screen time management, an app blocker, and other features to control and limit access to inappropriate content. An alert system also ensures immediate notification of any potential risks.
WHAT WE ARE LOOKING FORWARD TO
Core Features of Android Parental Control App
Our Android Parental Control App is equipped with six core features, each designed to offer parents an advanced level of control and monitoring over their child's mobile device usage. These features aim to help parents manage their child's digital activities effectively, fostering appropriate app usage and internet habits.
Location Tracker
Enhance your child's safety with our location tracker feature. Not only does it provide real-time location tracking, but it also allows you to review location history. The geofence feature enables you to set specific geographic boundaries, sending you alerts when your child enters or leaves Geofence.
Live Monitoring
Our live monitoring feature allows you to tap into the remote camera and one-way audio, offering a glimpse into your child's surroundings. By enabling you to observe the environment and listen to ambient sounds, it provides an additional safeguard, ensuring your peace of mind.
Screen Time
Take control of your child's digital habits with our screen time management feature. This tool allows you to set daily screen usage limits, as well as specific time periods for device use. By enabling you to manage and schedule screen time, it aids in fostering a balanced digital lifestyle for your child.
App Blocker
The app blocker feature enables parents to control the apps that their children can access. Maintain control over what your child can access. Our app blocker feature is particularly useful in preventing access to inappropriate or distracting apps, and lets you restrict unsuitable apps.
Smart Content Shield
The digital world can expose children to inappropriate and harmful content. Our smart content shield feature filters out harmful content, ensuring your child only has access to age-appropriate material. This feature provides an additional level of protection in the digital world.
Notifications
Stay informed about your child's digital interactions with our notifications and alerts. This feature allows you to view notifications received on your child's device, providing you with a comprehensive understanding of their online activities.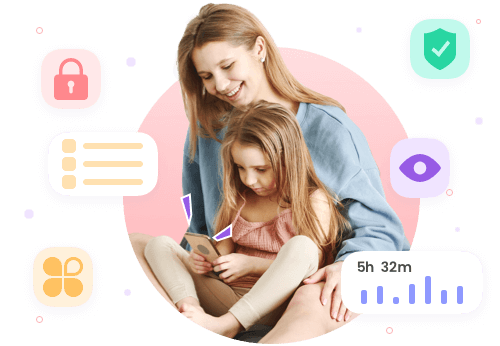 Why Choose Android Parental Control App
Choosing our Android Parental Control App comes with numerous benefits, making it the ideal solution for parents seeking comprehensive digital control and security for their children.
Comprehensive Monitoring and Management
Our app provides a blend of real-time monitoring and management features, offering a more holistic approach to digital parenting than other apps on the market.
Real-Time Safety Measures
With the ability to access your child's device camera, audio, and live screen, our app ensures your child's safety by providing real-time insights into their digital activities and surroundings.
Stable Mechanism
Our app features a stable mechanism that maintains its permissions, ensuring consistent and uninterrupted management of your child's device.
User-Friendly Interface
Designed with parents in mind, our app boasts a user-friendly interface that requires minimal setup, making the management of your child's device straightforward and hassle-free.
Support for both Android and iOS Devices
In addition to Android, our app also supports iOS devices, providing a versatile solution for families with different operating systems.
Get to know us
About us
We are the creators of the Android Parental Control App, a team of experts in the field of parental control technology. But more importantly, we are parents ourselves. We understand the need for effective management of our children's digital engagement. We've harnessed our firsthand experience into the development of this app, tailoring it to meet the diverse needs of parents worldwide. Our aim is to transform parental concerns into practical solutions, providing a product that is not only user-friendly but also genuinely beneficial in the digital age. We are committed to helping parents navigate their children's digital journey with confidence and ease.
Email: [email protected]
Twitter: @flashget_kids
Facebook: https://www.facebook.com/flashget.kids/
Website: FlashGet Kids
Testimonials
Our customers
Explore the experiences of parents who have benefited from our Android Parental Control App. These testimonials offer real-world insights into how our app has helped families manage their children's digital activities effectively. Discover the various features appreciated by our users and understand why our app is the top choice for digital parenting.
John Peterson
As a father, the safety of my daughter is my top priority. The location tracker and geofence features in this app are fantastic. I can check her location history and get notified when she enters or leaves designated areas. I highly recommend the Android Parental Control App to all parents.
Sarah Thompson
The Android Parental Control App has been a game-changer for our family. I love the real-time monitoring feature – it gives me peace of mind knowing I can check on my son's activities anytime. The interface is also very user-friendly, making it easy to manage his device. I would recommend it to my friends.

Emily Garcia
I was looking for an app that could help me control my kids' screen time, and this app exceeded my expectations. The screen time management tool is very effective – I can set daily limits and specific time periods for device use. Plus, the app's support for iOS devices is a big plus for us since my kids use iPhones.
Android Parental Control App: Safeguarding Your Child's Digital Safety
With the popularity of mobile phones, more and more children have begun to use them. As parents, we are also increasingly anxious about the problems of using mobile phones. We worry that children may become addicted to mobile phones, we don't want them to visit unhealthy content, we worry about them making bad friends, and so on.
Fortunately, now it has a solution – an Android parental control app plays a bigger supervisory role in this sector. We can use an Android parental control app to create a new frontier for monitoring and managing children's mobile phone activities. Following this idea, we will explore the development of Android Parental Control apps, discuss the key factors in choosing a Parental Control app, and highlight some of the most featured Android parental control apps for you.
Read More
Why Need an Android Parental Control App?
We worry about our children's phone use, especially when they are clever but craftier at their age. We can try to get to know our kids by talking to them and keeping an eye on them. Now that we have high-tech electronic gadgets, for many of us, investing in an Android parental control app is easier. This app has features like a location tracker, smart content blocking, and screen time limits. They help us keep our kids safe online and in real life.
How to Choose an Android Parental Control App
Different Android parental control apps offer different features. So, when picking an app, you must balance your needs with the app's features.
1. Consider Your Kid's Age
Different age groups need different management.
If your kid is still at a younger stage, you can choose an app focusing on screen time limits and app blockers. Set rules so your kid won't get hooked on the phone or scroll through inappropriate content. Some apps provide extra screen time, so your kids may ask for more time from you, and you may choose to allow or disallow this request. Don't hesitate to exercise your due responsibility by regulating your kids' smartphones.
For teens, the way things go in changes. Overly strict screen limits might lead to their rebellion. Teens usually have more friends and more outdoor time, so parents should pay more attention to their physical safety and outdoor activities. You might need an app that focuses on monitoring. Such apps offer real-time monitoring and location tracking. Most of them are hidden on the kid's phone to reduce their chances of bypassing the app.
2. Consider Your Demands
Each app has its own focus and user interface. Some apps require you to answer a lot of questions about your child's age and social media habits. Others let you customize your settings. Some focus on parent-child interaction, letting kids contact their parents through the app. Some try to run quietly in the background, invisible to kids. Try out different apps and see which one suits you best.
3. Stability and Customer Service
Parental control apps could be unstable sometimes. Many factors may cause them to stop working, like the kid disabling permissions or cutting the network connection. Most apps can't guarantee complete stability in any situation, so you need an app that can guide you through restoring permissions when they're disallowed. For this reason, good customer service should be taken into consideration. Try chatting with the app's customer service to see how quickly they respond.
4. Usage Reports
All Android parental control apps send regular reports to parents. The dashboard may include the following details: screen time, app usage, browser history, location record, etc. What the reports cover, how they're presented, and their accuracy help you analyze and improve parental control.
You might not have time to check the app every day, so these reports are your main source of information about your kids' activities and dynamics. With these statistics, you are able to find the information you need quickly. Choose an app with reports that suit your reading habits.
5. Price
Price is of vital importance, of course. Many parents wish Android parental control apps were free of charge. In most free versions, the apps don't offer all the features. A free app might be enough if you only need some basic features. But if you have higher requirements, you'll have to pay for a professional or premium version.
With a trial period, usually 3 to 7 days, most parental control apps have monthly and yearly subscriptions with extra features and services. But be careful that whether they are one-time payments or automatic renewals, the latter means that if you don't cancel your subscription before it's debited, these apps will automatically debit your subscription for renewal. Some refunds happen frequently because parents are not satisfied with the app after the trial period but forget to cancel the subscription and get debited.
In conclusion, remember to consider your kid's age, your own habits, the app's stability and customer service, its usage reports, and its price when choosing a parental control app.
Top Android Parental Control Apps
Now that we have discussed the key factors to consider when choosing an Android parental control app, let's explore some of the best options available in the market:
1. FlashGet Kids parental control app
Remember FlashGet? It was a hit download tool around 2000 and enjoyed great popularity all over the world. FlashGet was known for its strong technical skills. Developers were especially good at making things go fast on the internet.
Now, they've brought craftsmanship to FlashGet Kids. This app is super quick and reliable, and well-performed for getting real-time information from your kid's phone. But that's not all.
This app is a standout when it comes to monitoring. It's a full-featured parental control app that really shines in keeping an eye on what happens to your children. If you're a parent, join the rush and give it a try!
Key Features
Live Monitoring: With FlashGet Kids, you can monitor your children's real-time activities. You can activate Remote Camera and One-Way Audio to access the camera and audio of the children's device to learn everything taking place around them. You can also view your children's phone screen using a feature called Screen Mirroring.
Location Tracker: You can find your child's location through the location tracker, including the instant location and the location history. You can set Geofence and receive alerts when your child enters or leaves the Geofence.
Screen Time Management: FlashGet Kids allows you to set screen time limits, not let your children become obsessed with the virtual world, and maintain a healthy balance.
Smart Content Shield: With the smart content shield, you can manage and control the content your children can access, blocking inappropriate websites and filtering out inappropriate content. The developers are trying to break a new way in this field.
App Blocker: FlashGet Kids enables you to manage the apps installed on your children's devices. You can block some apps and set a time limit for app usage.
2. Google Family Link
Google Family Link is free! And stable! It is a widely popular and highly regarded parental control app. It seamlessly integrates with the Android operating system, providing a range of features that help parents monitor and manage their children's device activities.
Key Features
App Monitoring and Management: Google Family Link allows parents to monitor and manage the apps their children use on their Android devices. Of course, these apps must be downloaded through Google Play. If your children use a third-party app store to download the app, Google Family Link may not bring it into involvement.
Location Tracking: The app provides accurate location tracking, shows children's whereabouts, and gets rid of parental anxiety.
Phone Usage Habit: Google Family Link provides insights into your children's phone usage habits, allowing you to understand their digital behavior better.
Device Locking: Parents can lock their children's devices remotely or set screen time limits to ensure a healthy balance between digital and offline activities.
Capitalizing on seamless integration with the Android operating system, Google Family Link is an excellent option for parents who want to manage their children's device usage through granular controls.
3. Norton Family Parental Control
Norton Family Parental Control is also free! And it is also a tool for learning. This app offers a range of features that promote responsible phone usage and protect children from online dangers.
Key Features
Distraction Blocking: While your child is studying, Norton Family Parental Control blocks distracting notifications and alerts, helping them stay focused.
App and Web Management: Parents can set specific app and web restrictions, allowing them to control the content their children can scroll through.
Time Limits: This feature enables parents to set time limits for various apps and devices, ensuring that their children's maintains a healthy balance between screen time and other activities.
Location Tracking: Norton Family provides accurate location tracking, allowing parents to always know their children's whereabouts.
Norton Family Parental Control offers a comprehensive solution for parents who want to protect their children from online dangers in the magical, limitless connected world
4. AirDroid Parental Control
AirDroid is an oldie but a goodie. They're really good at remote control. So, it's no surprise that Airdroid Parental Control shines in remote control too.
Stable remote control is a big selling point! Parents can control their kids' phones from afar. Plus, with monitoring, you can use the remote camera remotely.
If you're a parent who wants to keep a close eye on your kid's phone usage, this could be devised for you.
Key Features
Set time limits on device usage. This feature helps prevent the children from devoting too much time to smartphones and promotes better time planing in their daily lives.
Web filtering capability. This ensures that children are protected from content deemed harmful to them, creating a safe and clean online environment. Track app activity and set time limits on certain apps.
Detailed reports and insights into their children's device usage. This comprehensive monitoring system builds a strong digital security barrier for the healthy growth of children
5. Qustodio Parental Control
Qustodio is an easy-to-use, free parental control app for Android. It allows you to set rules and schedules for your child's phone usage and control the websites and apps they can access. Qustodio offers features like call and text message monitoring, time limits for apps, and location tracking.
Key Features
Monitor and block inappropriate content. Parents can set up filters to block websites and apps at odds with the age suitability.
Track the children's location in real-time. This feature ensures their safety when they are out.
Time control feature. This feature allows parents to limit screen time and set schedules for when their children can access certain apps or websites.
6. PandaSPY
Yep, there's an Android parental control app that's all about spying. These spy apps take monitoring to the next level. They don't just have basic functions like remote cameras or screen mirroring.
It can dig into chat records from social media apps. They can check out call logs and text messages. With these tools, parents can uncover some really hidden info in children's devices.
If you're a parent who wants to control everything, the PandaSpy app might be just what you need.
Key Features
Real-time Geographical Tracking. This feature uses GPS technology to provide accurate location data, letting you know exactly where your child is at any given moment. It's essential for ensuring your child's safety when they're away from home.
Monitoring Phone Access. This feature provides you with a detailed report of websites visited, apps used, and information accessed. It's an effective way to ensure your child is not exposed to inappropriate or harmful content.
Remote Access to Child's Phone Camera and Audio. This feature allows parents to access their child's phone camera and audio remotely. You can view the surroundings and listen to the sounds around your child, giving them an additional layer of protection and peace of mind.
Social Media Monitoring. PandaSPY also enables parents to monitor their children's social media activities. You can view messages sent and received on various social media platforms, ensuring your child interacts safely and appropriately online.
Benefits of using an Android Parental Control App
Android parental control apps offer many benefits, helping parents monitor and manage their kids' mobile use effectively.
Ensuring Kids' Safety
Safety first, right? Almost all parental control apps can track your child's device location. This feature gives parents peace of mind, especially when their kids are neither home nor at school. Some apps even tell you about your child's surroundings through remote cameras and one-way audio. Combine this with location tracking, and you can analyze if your child is in danger and make decisions right away.
Cultivating Good Habits
Good habits start young, and the world of smartphones is full of temptations. Unlimited phone use can lead to addiction and even damage a child's vision. Cultivating good habits involves not just communication or punishment but also closer attention, greater care, and more love. Set enforceable limits on electronic devices aimed at children about the importance of self-regulation so these children can be the future adults they need to be.
Protecting Kids' Physical and Mental Health
The online world is full of temptations. With the proliferation of drugs and sexual content, creating a healthy and safe online environment for kids is crucial. But harmful content is not only spread through certain apps; it is also mixed in web pages and various chat records. Android parental control apps can help you build a barrier to keep harmful content away from your child.
Strengthening Communication with Kids
Some parental control apps emphasize communication with kids. These apps provide activities for parents and kids to participate in together, allowing the child to have more freedom and choices on the phone under mutual agreement, which is a great way to maintain smooth communication and improve parent-child relationships.
Keeping Detailed Records of Kids' Growth
The daily data reports from parental control apps provide detailed usage records. Parents can understand their children's lives and see their growth through these records. They can also learn about changes in their children's usage habits over time to grasp their development trends.
In short, Android parental control apps are not meant to pit parents against their kids. On the contrary, they are a medium to promote more channels between parents and kids. They help parents and kids become allies, resisting the harmful temptations of life together and ensuring the child's healthy growth.
Common Concerns and Misconceptions about Android Parental Control Apps
Many parents have various concerns and misconceptions about Android parental control apps. These doubts often discourage them from using these tools.
Firstly, one problem is that using parental control apps is an invasion of privacy. As parents, we must safeguard our kids from potential dangers in both the physical and online worlds. These apps allow us to set screen time limits, block inappropriate content, and monitor online interactions. By using an Android parental control app, you're not invading their privacy; instead, you're their invisible guardians in the digital world.
Secondly, these apps are not complicated to use. On the contrary, most Android parental control apps are user-friendly and easy to navigate. They come with intuitive interfaces and step-by-step guides that allow parents to set up and customize the app according to their preferences. Don't let tech fear stop you from securing your child's online well-being.
Thirdly, some parents worry that using parental control apps will hinder their children's independence or trust. Actually, these apps won't replace open communication and trust between parents and children. Instead, they just serve as a tool that can facilitate discussions about responsible online behavior and create a safe digital environment for your child to explore. By involving your child in this initiative and explaining the goodwill behind using the app, you can maintain both a healthy level of trust and online safety.
Fourthly, many parents are also concerned about the price, thinking that parental control apps are expensive or require subscriptions. While some apps have premium features requiring subscriptions, many free or affordable options exist. So, after learning about the different apps, the real matter is to choose one that fits your budget and meets your specific needs. Remember, these apps are a small price to pay for the peace of mind that comes with ensuring your child's online safety.
Lastly, some parents worry that using parental control apps means constantly monitoring their children's everything. These apps are designed to give parents control and insight into their children's online activities, not to spy on them and interfere with their lives. Use the app as a tool to identify potential risks, teach your children about internet safety, and give your child freedom and well-being both inside and outside your home.
Final Words
In conclusion, Android Parental Control Apps play a vital role in ensuring the safety and well-being of children in the digital world. Parents can effectively monitor and manage their children's device activities by choosing the right app, protecting them from potential online dangers, and promoting self-disciplined phone usage.
We have explored some of the top Android Parental Control Apps, such as FlashGet Kids app, Google Family Link, and PandaSPY, each offering unique features and benefits. When selecting an app, keep in mind factors such as ease of use, age appropriateness, features, price, reliability, and customer support. By making an informed decision, parents can create a safe and controlled digital environment for their children, and work together with technology as qualified guardians.
Read Less